Place of Peace (Hei-Sei-Ji) Japanese Temple Project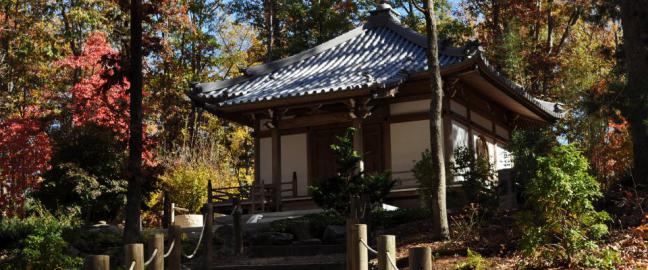 On Friday, September 5, 2008, David Shaner Sensei and his student, OPB Abbot Jim Eubanks (Shi Yong Xiang) carried out a formal Buddhist ceremony for the dedication of the Place of Peace (Hei-Sei-Ji), a Japanese Buddhist temple generously given to Furman University by the Tsuzuki family, friends of Shaner Sensei and life-long residents of both Nagoya, Japan and Greenville, South Carolina. This is the first such authentic temple to be deconstructed in Japan, shipped by boat through the Panama Canal to the United States and reconstructed by Japanese master artisans at Furman. The temple is symbolic of a much greater Asian Studies vision that is underway at Furman, a commitment that embodies the growth of intercultural relationships and Furman's unique academic approach of engaged learning for its students. Shaner Sensei will begin using the temple to teach his philosophy and Asian studies students in mind-body education, which will include Ki breathing, meditation and exercises in bodymind unification. For OPB, this temple truly represents a symbolic beginning for its own growth as a unique and maturing Buddhist Order, which seeks to bring together the best of East and West through Pragmatic Buddhism.
The dedication ceremony included Japanese and American counterparts who had intimate ties to this grand project, and included the following: Furman University President Dr. David E. Shi; Donors of the family Temple, Seiji and his sister Yuri Tsuzuki; Director of Honmachi Taisyokan, Satoshi Yamamoto; President of Aichiken Construction, Masao Nakajima; Construction Supervisor Hiroshi Sato; Consul General of Japan Masahiro Katamoto; Professor of Philosophy and Asian Studies Dr. David E. Shaner Sensei, with his student and Abbot of the Order of Pragmatic Buddhists, Shi Yong Xiang Jim Eubanks. Dr. Shi opened the ceremony and welcomed the hundreds of guests and honorees for the historical event. Shaner Sensei and OPB's own Shi Yong Xiang performed a traditional Japanese Buddhist blessing for the "Place of Peace" temple to encourage the prosperity of its newfound place at Furman for years to come and give thanks to all of the elements that were required for the project's fruition. It is truly an honor that OPB was able to participate in this magnificent project, and encourage the establishment of the Place of Peace's new beginning at Furman.