Weekly Practice at the Central Ohio Center for Pragmatic Buddhism
For more details on COCPB weekly practice and Dharma talks, visit the COCPB home page at http://www.cocpb.com/.
Our work is the synthesis of Nikayan (early Indian), traditional Chinese Chan and Japanese Zen Buddhism, and the American Pragmatist tradition, in what we call Pragmatic Buddhism.
We utilize Chan and Zen Buddhist practice methods that resonate with Westerners, including the central practice of sitting meditation (zazen). The Pragmatic Buddhist approach uses modern-day language to explain Buddhism's relevance to the contemporary Western lifestyle. In addition to regular sitting and meditation practices, OPB teachers give weekly dharma talks. We also engage in group discussions following the talks in an open forum atmosphere, where participants discuss their thoughts and views of issues pertaining to practice, philosophy, and everyday life.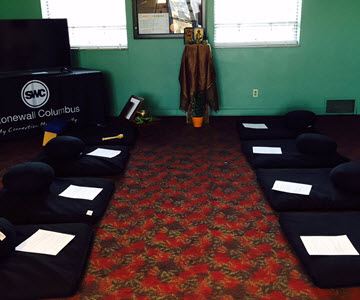 A primary goal of our practice is to simplify the most meaningful methods, so that open-minded persons can participate in the cultivation of mindfulness, personal development and share this through socially engaged Buddhism.
Services are from 9:30am-11:00am every Sunday, and at 7:30 pm on Wednesdays at:
Services consist of formal meditation followed by a Dharma Discussion and ending with a social for tea and refreshments. All are welcome.
For more information, visit the Central Ohio Center for Pragmatic Buddhism website at http://www.cocpb.com/.